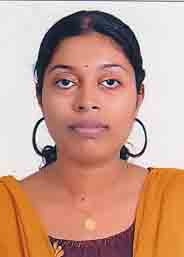 Princy Mol A. P.
Assistant Professor
Botany

ACHIEVEMENTS
Second rank holder in M.Sc botany
Second rank holder in B.Sc Botany.
Qualified Joint CSIR-UGC test (lectureship-NET) held on June 2014, December 2014 and June 2015.
Secured first prize in M.Sc paper presentation competition conducted by Kerala Botanical Society.
Winner of UGC post- graduate merit scholarship for university rank holders.
Received merit certificate for best student in botany during B.Sc and M.Sc from Sacred Heart College, Thevara.